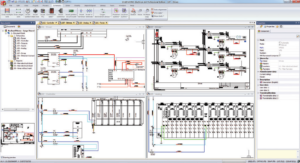 Collaborative and integrated electrical design is essential for successful product development, and implementing SOLIDWORKS electrical solutions can save time, control costs, improve quality, increase collaboration, and boost innovation.
SOLIDWORKS Webinars & Power Hours
All
3D Printing
3DEXPERIENCE
CAM
Case Studies
Data Management
Design Automation
Electrical Design
Events
Hardware & Systems
Installation & Service Packs
New Software Features
News
Settings & Customizations
Simulation
Software Features
SOLIDWORKS
Tech Communications
Training
Tutorial
Creating a vault view should be as easy as 1, 2, 3! 1 - Have PDM installed and a vault to attach to. 2 - Knowing the machine you want the vault view on. 3 - Attach vault view for PDM access! Sometimes this is not the case and this blog will cover how to make a vault view and some of the most common issues when making one.
SOLIDWORKS Webinars & Power Hours