Welcome to GSC's SOLIDWORKS Electrical Spring Training! Spring is in the air…not actually in the arctic-tinged air where another groundhog prediction of 2 weeks of spring was woefully inaccurate (a foot of snow covers every inch of ground in Wisconsin) but further to the south, in Arizona, where the Cactus league ramps up as Pitchers and Catchers…
All
3D Printing
CAM
Customer Case Studies
Data Management
Design Automation
Electrical & PCB Design
Events
Expert Insights
Hardware & Systems
Installation & Service Packs
New Software Features
News
Programming & API
Settings & Customizations
Simulation
Software Features
SOLIDWORKS
Technical Communication & Visualization
Training
Tutorial
How do your teams curate their knowledge? Read this quick dive into transactive memory and some free SOLIDWORKS resources they should be using.
As a SOLIDWORKS provider with staff experience in Autodesk Inventor, we took a look at comparing the software. There are key benefits to choosing SOLIDWORKS – learn our top 6.
We value the connections we make in our local community, and are excited to introduce Maddie Frank as a new collaborator. We'll be exploring everything additive – from inventive, out-of-the-box projects, to testing new technologies. Read on for more.
Draw more shapes than you thought possible in CAD simply by using mouse movements and the "A" key where necessary!
When you're sketching in SOLIDWORKS and want to create a dimension, and you don't want the dimension location to be a circle's center, use the circumference!
Watch this quick holiday video showing 10 SOLIDWORKS modeling tips!
Serve Days are a chance for us to serve and invest in our communities. Read 3 of our employees' stories from the last year.
An exciting new feature in SOLIDWORKS 2020 is the ability for the user to conduct a "Google-like" search in PDM across multiple metadata fields. Learn more.
Have you ever had to create a relief on a part in an assembly, based on the shape of a neighboring part?
Find commands in SOLIDWORKS you may have forgotten, or learn about a particular command you've never even used before – all through search.
What do our SOLIDWORKS 2020 Premieres entail? Find out by visiting us next week in Illinois.
It's the little things that make a big difference. Learn this quick drag and drop trick to copy a component AND do SmartMates.
Find out John's take on presenting sessions for the SOLIDWORKS community at Engineer 3D!
Last week we wrapped up our conference, Engineer 3D! Miss our event, or want to reminisce? We've provided a highlight reel to cap off our biennial event.
Now that you've learned benefits of using 2D Cabinet Layouts, expertly build your library following these recommended practices.
Gian Paolo Bassi, CEO of Dassault Systèmes SOLIDWORKS, and Michelle Bockman, Global Head of HP 3D Printing are presenting as keynote speakers at Engineer 3D!
SOLIDWORKS 2020 is rolling out soon, and there's so much great new stuff, it's hard to pick just 5 favorite new things.
Get the most out of the 2D Cabinet Layout feature in SOLIDWORKS Electrical!
Curious about the benefits of design analysis and testing? Take our sessions on SOLIDWORKS Simulation and Simulia at E3D!
Curious about the benefits of design analysis and testing? Take our sessions on SOLIDWORKS Simulation and Simulia at E3D!
Just announced – on the 3rd day of our conference we're premiering SOLIDWORKS 2020! Join us Oct. 4th to learn the newest user-requested features.
How well do you understand your employees' abilities in SOLIDWORKS? If they could be working more efficiently, consider using our productivity assessments.
We've compiled our Top 10 Sessions you don't want to miss at our upcoming E3D! training conference. Take a look!
Find new capabilities available such as image vectorization technology (IVT), an integration with 3DEXPERIENCE, cross-functionality with 3D CAD and Simulation, and more.
Can you answer these 10 questions without hesitating? Find out simple reasons why GSC + SOLIDWORKS Electrical Schematic checks the box on functionality, training, and ease-of-use.
Our keynote speakers for this year's E3D! Conference include innovator Greg Mark and strategist Todd McLees.
Welcome to the "Knowledge Age," where companies need to learn how to harness their intellectual capital to retain competitiveness in the marketplace. Let's explore what this means.
PDM vaults can have the same metadata clearing behavior whether Save As or Copy Tree is used, but ultimately, setup and training are the best ways to ensure vault consistency.
Those looking at purchasing Simulation software are often dissuaded by the initial price tag, which misses the benefit. First, calculate your ROI.
New technologies in SOLIDWORKS 2019 make working with large assemblies and complex parts faster than ever before.
It takes perspective to know when you could be working smarter, not harder. With the right partner, you can strategically transition to a better ECAD system.
Highlights of this year's conference included CAMWorks solutions ShopFloor and Additive; Eureka Virtual Machine Simulation; and of course, Paul Yaffe Motorcycles.
Having a workflow for engineering documents to travel through in their life cycle is not only efficient, but convenient.
SOLIDWORKS has long supported Windows 7, but now it's time to upgrade to Windows 10. Here's why.
Free up design engineers from repetitive, monotonous tasks and elevate product quality at the same time. DriveWorks provides this and more.
Your new employee won't stay long without investment from you. Find some of our insights on how to best train, and therefore retain, new grads.
Some geometries are difficult, let alone impossible, to manufacture with CNC. Print these complex geometries through HP's lattice structures or topology optimization – and in batches.
Our Technical Support staff Evan Hicks doubles as the CAD mentor for Pewaukee's Robotics Team 1259. The team recently won the Wisconsin Regional at the end of March, competing against 54 other teams!
Advances in high-strength 3D printing have brought impressive solutions to the factory floor. Do you know the top ways to save with this tech?
Let's see how SOLIDWORKS Electrical lets you pick what players in the game (...or in the project) make it to the finish – in our final reporting.
Technical training in 3D software is a must in the onboarding process of Designers and Mechanical Engineers, no matter the experience level. Here are 3 reasons why.
The deciding moments of a game are especially strategic. Managers do everything they can to give their team the best chance to win. Similarly, SOLIDWORKS Electrical enables you to make last minute changes on the fly and get your design lineup laid out perfectly through Edit Attributes.
Learn how to make your choice of one-time or permanent symbols through the black box feature. Much like having a skilled veteran player up your sleeve, we can retain these permanent players to your roster for wins, wins, and more wins.
In baseball, every collectible piece of information is tallied and accounted for. The same is true in your SWE project – as a comprehensive database program, master your Component Numbers and make better decisions because of it.
Find more Electrical tips and tricks! Like pitch framing in baseball, we have a little adjustment you can do to the wipeout frames in your library of footprints, giving you the control you need to knock out another design.
Welcome to GSC's SOLIDWORKS Electrical Spring Training! Spring is in the air…not actually in the arctic-tinged air where another groundhog prediction of 2 weeks of spring was woefully inaccurate (a foot of snow covers every inch of ground in Wisconsin) but further to the south, in Arizona, where the Cactus league ramps up as Pitchers and Catchers…
GSC will hold its biennial Engineer 3D! Training + Technology Conference on October 2-3, 2019, at the Potawatomi Hotel and Casino in Milwaukee, WI.
What makes SOLIDWORKS Electrical technology unique on the market? Learn about its unified, collaborative, and cross-functional capabilities today.
Gain the ability to 3D print your parts, fixtures, tooling, and whatever else you can conceive, in real metal.
Our CAMP 3D! planning is underway! Find dates and activities for the middle school and high school programs.
When you want to modify a part, but you want to change a copy and not the original, use a virtual part. Learn how.
There are amazing benefits to implementing intelligent schematics for electrical design. Do you know them? What's the cost of not knowing?
What drives you? Often, we're driven by the desire to create something better, or something entirely new. Here are some favorite design quotes to fuel that fire.
What makes Markforged untouchable in the 3D printing industry? Compare surface finishes, heat resistance, and unparalleled part strength through Continuous Fiber Reinforcement at a truly affordable price.
You might have a few questions about our new online training! Here's everything you need to know before registering for a session.
Reflect back on the year with us as we take stock of our top accomplishments.
Do you know how to orient a model normal to a face but not have the view orientation use default "Y" orientation?
We're excited to announce that we're now offering online training for several of our existing courses.
We're excited to announce that GSC is now an official distributor of Markforged printers.
As part of our SOLIDWORKS 2019 Rollout events, GSC gave away OneSky telescopes from Astronomers Without Borders - and now I've redesigned my digiscope adapter to work with them.
Place a point in a sketch that represents the location of 2 lines intersecting - creating a virtual sharp (not a shared a point).
See how you can easily fix orientations on imported parts through the Move / Copy body function.
Less clicks means less time sketching. Learn how sketch relationships can be quickly added by the press of a button.
Get convenient, quick explanations on all things BOM - detailed previews in expanded views, easy exports to Excel, and other enhancements.
Gain helpful tips on how to use SOLIDWORKS Task Scheduler to create PDFs from SOLIDWORKS files.
Walk through this how-to on changing a component color in a drawing.
Refresh yourself on included benefits and support when you implement SOLIDWORKS 2019 for your production.
SOLIDWORKS 2019 introduces new features to help you streamline interactions with manufacturers, enhance user controls, increase productivity, and more.
SOLIDWORKS 2019 includes a number of new features to its PDM, Manage, and EXALEAD offerings. 
SOLIDWORKS Electrical 2019 introduces a number of new features and enhancements to help you streamline your processes and work faster. 
If you're eagerly anticipating the SOLIDWORKS 2019 - Simulation features and enhancements, we've compiled a list of the top 10. Start picking your favorite features now...
We can join a bus with 2 different methods, "bus entry" or "wire." Note the difference and use the best one for you!
The latest release of SOLIDWORKS is out of this world, and we can't wait to show it to you!
SOLIDWORKS 2019 3D CAD is here, and we can't wait to show you all the new capabilities! As always, the 2019 release contains hundreds of new, user-driven enhancements, everything from Mesh Modeling to Large Assemblies. See the top 10 enhancements below.  TOP 10 NEW FEATURES IN SOLIDWORKS 2019 3D CAD Mesh Modeling Opens Up New Design Possibilities…
Thoughts on what the kids taught me as I conducted Camp 3D! in 2018.
Part III of this series highlights the fundamentals you'll use every day in SOLIDWORKS PCB!
Continuing in our exploration of recent (and not-so-recent) enhancements to SOLIDWORKS, this time we turn our attention to sketching.
Check out the fancy footwork of the IPC Compliant Footprint wizard in SOLIDWORKS PCB
Learn how to link a drawing view to a Bill of Materials and why this can be important.
Learn how to link a drawing view to a Bill of Materials and why this can be important.
Need to update your logo on all your SOLIDWORKS drawings? Here's how, whether originally linked or not linked.
There seems to be a fair amount of confusion with regard to computer CPUs and SOLIDWORKS performance. I'm here to clear that all up.
For the third consecutive year, GSC has partnered with the Experimental Aircraft Association (EAA) and Dassault Systèmes SOLIDWORKS to provide EAA members free access to the SOLIDWORKS Student Design Kit – EAA Maker Edition. As the official SOLIDWORKS partner of the EAA, GSC's technical experts will be on-hand in the Homebuilder's Hangar at the EAA AirVenture Oshkosh, July 23-29, to discuss…
Wouldn't it be nice if everyone on your team could use the same material library? Follow these simple steps, and you'll have your own database used by your entire team.
Software OpenGL is a SOLIDWORKS setting that will tell SOLIDWORKS to emulate OpenGL on its own without using graphics card driver's OpenGL support. Learn why it exists.
Still have some questions about SOLIDWORKS online licensing or just need more information? We have the answers you need.
Just incorporating a few recent enhancements to SOLIDWORKS can help you put together assemblies quicker than ever before.
Today's designers stand on the shoulders of the giants who came before them. To help inspire your next innovation, I've gathered my favorite quotes on design, innovation, and the tools designers use.
It's easy to remove gaps and voids on imported surfaces with a few simple tools in SOLIDWORKS.
We were able to find the flaws in Mjölnir's current design using Abaqus to conduct Finite Element Analysis studies. Then, we optimized the design using Tosca's Topology Optimization tool to reduce the hammer's volume and shift the natural frequency.
Continuous learning plays an essential role to your future success. There's several ways you can invest in yourself such as reading industry blogs, attending webinars, and enrolling in comprehensive training. Or, it could be as simple as reading a book.
SOLIDWORKS offers a number of ways to customize the software to make it faster to access the tools you use the most.
Is it possible to learn and have fun at the same time? According to last year's GSC Camp 3D! attendees, the answer is a resounding…YES!
Have you ever wanted to work from home only to realize you forgot to deactivate your SOLIDWORKS License? Been there, done that - but, no more.
SOLIDWORKS 2018 has some great enhancements for mirroring in both 2D and 3D sketches.
In SOLIDWORKS 2018 we can create a Bounding Box for any part, not just weldments.
Back by popular demand, GSC will bring back its educational outreach program for students in grades 7-12 -- Camp 3D!
Don't let anyone tell you there's "something wrong with kids these days!"
SOLIDWORKS motion analysis uses the assembly mates along with part contacts and a robust physics-based solver to accurately determine the physical movements of an assembly under load. But, how do you know if you're making the most out of this powerful tool?
Our technical experts have each selected their favorite features in SOLIDWORKS 2018.
GSC honored to received "Elite 190 Club Award" from Dassault Systèmes SOLIDWORKS Corp. for the 14th consecutive year.
Learn how to access your SOLIDWORKS Subscription Service added benefit - vouchers for free SOLIDWORKS Certification Exams.
When installing SOLIDWORKS for the first-time or updating to a new software version, there are several things to consider to ensure your installation goes smoothly. We're here to help you along the way.
With SOLIDWORKS World 2018 just days away, the excitement is building at GSC! Two of our experts will also share their SOLIDWORKS knowledge with attendees as presenters for three sessions.
Taking design inspiration from Dieter Rams and his Ten Principles for Good Design.
Upgrading SOLIDWORKS installations is generally straightforward, but there are different approaches to the upgrade based on your situation.
Envious of all the new vehicle comfort and safety features, Mrs. Claus decided to upgrade Santa's sleigh just in time for Christmas.
Most superheroes discover their new found superpowers after a freak accident, but not you.
Learn why best-in-class companies are turning to virtual simulation over hand calculations and physical prototyping.
With each year's rollout of SOLIDWORKS, what's new in the API often gets overlooked or relegated to footnotes, so it is about time to have an entire series of blog posts on what is new in the API for the SOLIDWORKS product line. Add custom tabs to a PDM vault view in Windows Explorer This…
Migrating to a new CAD system can seem complex, but it comes down to managing two things: data and people.
Ah, those hazy, lazy days of summer. No school. Family vacations. Swimming pools. Warm nights and the sensory medley of fresh-mown grass, fireflies, and cicadas.
SOLIDWORKS 2018 is loaded with awesome new features, including improvements to its popular 3D Interconnect functionality.
From a more intuitive user interface to improved sheet metal design tools, many of the new enhancements and improvements were added based on your requests.
Do you feel like you're in an ocean of SOLIDWORKS resources and talent, yet you're enveloped in a bubble by your MCAD system? Stop letting your system prevent you from leveraging the resources and talent around you.
Use the SOLIDWORKS Geometry Analysis tool to determine areas in your model that might cause meshing problems.
Create your own solar filters for binoculars using SOLIDWORKS and a 3D printer, and get a close-up view of the August 21 solar eclipse.
When SAS Forks experienced an issue with a prototype of their EXTREME Auto Processor, they turned to SOLIDWORKS Simulation to identify and correct the deficiency in the design.
With SOLIDWORKS and Stratasys, you can conquer any design challenge -- even when they're personal.
GSC has again partnered with the Experimental Aircraft Association (EAA) and Dassault Systèmes SOLIDWORKS to offer EAA members free access to the SOLIDWORKS Student Design Kit- EAA Maker Edition.
Do you want to work faster in SOLIDWORKS? Then, look no further than the SOLIDWORKS keyboard shortcuts.
The answer to this question varies somewhat on the type of things you design, but mostly the variability comes from time – as in, its passage.
The new 3D Interconnect functionality introduced in SOLIDWORKS 2017 is useful when working with a variety of native non-SOLIDWORKS files, including parts that are ultimately sheet metal in nature.
To learn more about the features in SOLIDWORKS Premium, see what our experts have to say.
GSC is honored to be recognized as the 2016 Business of the Year by the Germantown Chamber of Commerce.
When using data file shortcuts in SOLIDWORKS Electrical 2017, all of your reference documentation can now be a live link that stays up to date.
Successful product development and innovation goes far beyond designing something you think is cool.
A powerful numbering scheme in SOLIDWORKS Electrical 2017
No need to lament any further over missed connections, thanks to these SOLIDWORKS Electrical new features.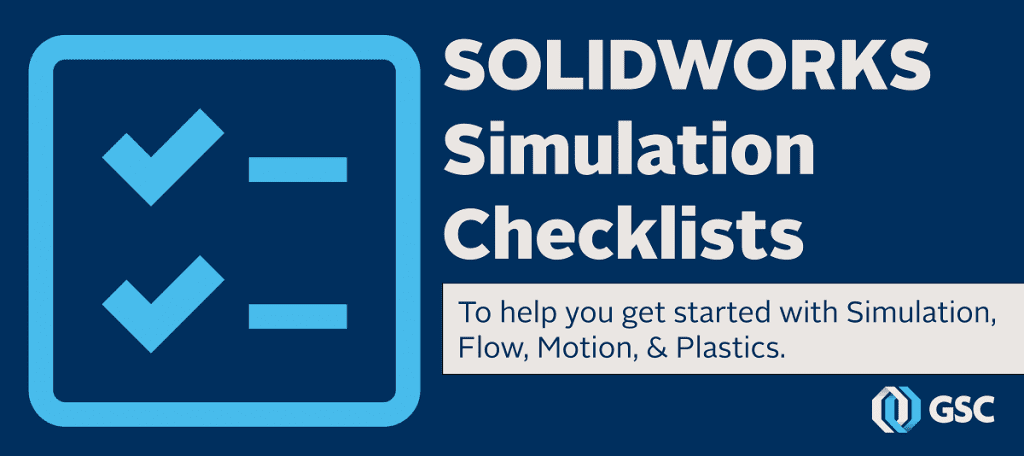 Those new to SOLIDWORKS Simulation tend to look for the "easy" button. While the software can be easy to use, if it knew exactly what we wanted and how to do it we'd likely be out of jobs.
Watch and learn how to use the new and improved wrap feature in SOLIDWORKS 2017.
SOLIDWORKS 2017 introduces magnetic mates, a real game-changer when working with large assemblies.
It's because of you that we get to do what we love – serving our customers and helping fuel your success. And, because of you, GSC was honored to receive the "Elite 190 Club Award" from Dassault Systèmes SOLIDWORKS Corp. for the 13th consecutive year.
We all get busy and when you're rushing to get a job completed, it's easy to form some bad SOLIDWORKS habits along the way. We polled some of our power users to see what helped them break the bad habits and increase their efficiency in SOLIDWORKS.
Over my 37+ years in manufacturing, I have overseen several CAD system implementations and optimizations within a global environment. Some have gone smoother than others, but I've learned a lot of great lessons along to help you get the most value out of your CAD system.
3D Interconnect is a revolutionary technology that allows a SOLIDWORKS user to directly open files and use models from other native CAD systems in their native format.
Running a fatigue analysis is becoming a growing trend in mechanical parts and assemblies.
From my product designer's perspective, one of the most useful functions in a 3D solid modeler such as SOLIDWORKS is the ability to check for potential interferences in their still-virtual assembly.
While production models should generally have fully defined sketches, sometimes you just want to make all the elements in an underdefined sketch move to the origin, such as when working with imported or copied geometry. There is an easy way to do this in SOLIDWORKS, you just have to know where to look.
These SOLIDWORKS Electrical tips will save you time over the long haul.
SOLIDWORKS Electrical Connection Labels may just make you feel a little more like MacGyver. That is, if he had access to a Swiss Army knife instead of a wad of gum and a paper clip.
A common hurdle to a repair or update of the SOLIDWORKS application is a failure of the Installation manager to locate the source files that were used to install the application.
Let's talk about how to use adaptive mesh in Part 4 of our SOLIDWORKS Flow Simulation series.
Let's talk about how to use initial mesh in Part 3 of our SOLIDWORKS Flow Simulation series.
Let's talk about how to use basic mesh in Part 2 of our SOLIDWORKS Flow Simulations series.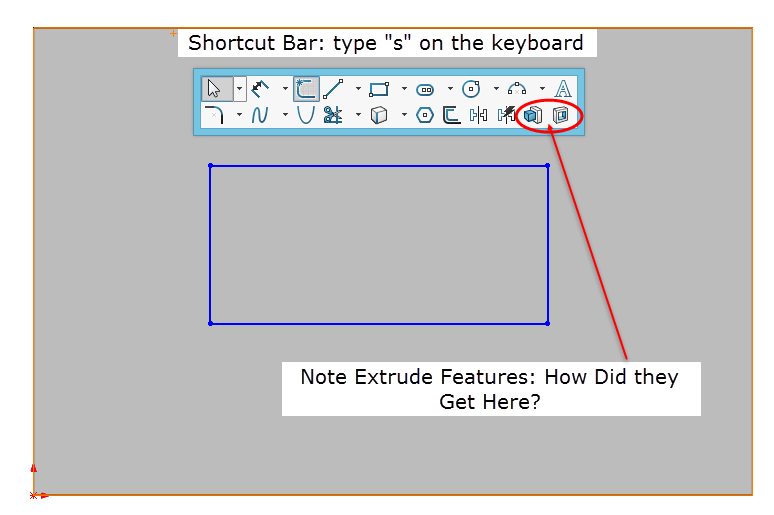 Here's a quick tip to help you customize your SOLIDWORKS Sketch Shortcut Bar with tools outside of the normal grouping.
CAD systems like SOLIDWORKS and CAM systems use different directions for defining coordinate systems. The result is, when a model is exported from SOLIDWORKS and imported to a CAM system, the model comes up in the CAM system in the "wrong" orientation. The good news is there's a simple fix!
Welcome to Part 1 of our four-part SOLIDWORKS Flow Simulation series! In Part 1, we'll take a closer look at the basics and stages of Flow Simulation.