When on subscription for your SOLIDWORKS licenses, there are various benefits that you are given. This can range from Technical Support with access to the latest versions of the software, to free training and certifications. These certifications can be requested by anybody with a SOLIDWORKS license regardless of what version they have.
Begin & Claim Your Voucher
Certifications can be taken on any computer that has SOLIDWORKS installed on it with an internet connection. To begin, navigate to the 3DEXPERIENCE Certification Center and log in with a valid SOLIDWORKS ID. Your SOLIDWORKS ID will be linked to your company which will determine if you are eligible to claim free certification vouchers. Similarly, any exams that you pass will be linked to this account.
To claim a voucher, you will need to click Subscription Offer located in the Certification Center.
The next page will show you a list of exams that you can request vouchers for. You can select up to 1 exam voucher from each category listed. This allows for up to 3 different exams to be claimed at one time. You do not have to select an exam from all 3 sections, but you will not be allowed to return to select more exams after clicking redeem, so select all the exams you will want now.
These codes are then shown in the Certification Center for later use and will be valid for use for 6 months after the date requested.

6 Exams Free Per Year
You can repeat this process to get new vouchers once during each 6-month period that starts on January 1st and July 1st of each year. This means that you can request up to 6 free exams per year.
To take the certification exams, you will need to download the TesterPRO Client from the homepage of the Certification Center. Here you log in with the same SOLIDWORKS ID used for the Certification Center and enter in the voucher code.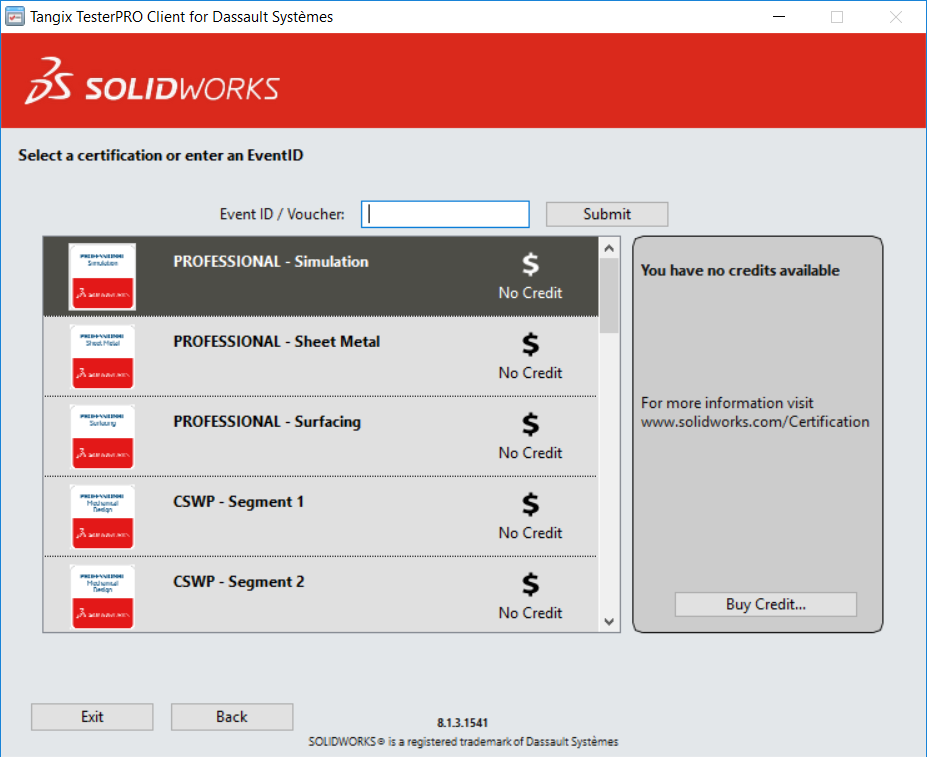 After you take your exam you can see any certifications awarded to you along with the results of each exam you have taken.
---
Contact Us
We're always available over the phone at 262-790-1080, or, if you don't have time for a phone call, we take submitted inquiries online.
Want More?
If you're interested in SOLIDWORKS and other resources:
SOLIDWORKS Webinars & Power Hours