When you've been around the SOLIDWORKS community for as long as I have, you get to meet some extraordinary people. Out of all the engineers, educators and inventors I have met in my 23 SOLIDWORKS / 3DEXPERIENCE World events, however, Danielle Boyer stands out.
Danielle is 19 years old, but already has almost a decade of experience teaching STEAM classes, K-12, using curricula she developed herself. While participating in and eventually mentoring dozens of FIRST Robotics teams, she saw the need for a more accessible robot, since the cost of the FIRST robot parts and tools can be a barrier for schools in under-served communities. Rather than simply point out the need to others, however, she went about solving the problem herself – as any good engineer would. Her initial robot kits were very affordable at around $50, but her current version is only $18.95, complete! This not only allows every school to have a robot, but every kid as well, and that's the name of the project: Every Kid Gets A Robot, or EKGAR.
The EKGAR robot consists of four 3D-printed parts (a chassis and three wheels) that house electric motors and a programmable Arduino-style "brain" powered by a single 9-volt battery. She provides the EKGAR robot to organizations in three forms: instructions to source parts and assemble everything yourself, a complete robot kit with all the parts needed, and a fully-assembled robot. The kits and the completed robots are provided at the same $18.95 cost; she charges nothing for her labor to create the kits or assemble the robots. She already has hundreds of EKGAR robots out there across the nation, but as you can imagine, it takes time to fulfill all of the requests she receives.
Enter 3DEXPERIENCE World 2020 in Nashville, TN (aka 3DXW20). Danielle had quite a presence there, setting up shop in The Hive (a kind of break and meeting place for attendees) and showing people how the EKGAR robot worked. She also had a 90-minute hands-on breakout session running people through her teaching methods and materials, AND an appearance on the main stage during General Session, but the best thing was the 3DEXPERIENCE For Good "hackathon" on Day 3 of the conference, where attendees worked in groups of three to assemble 150 EKGAR kits into completed robots for her to give away to kids across the country!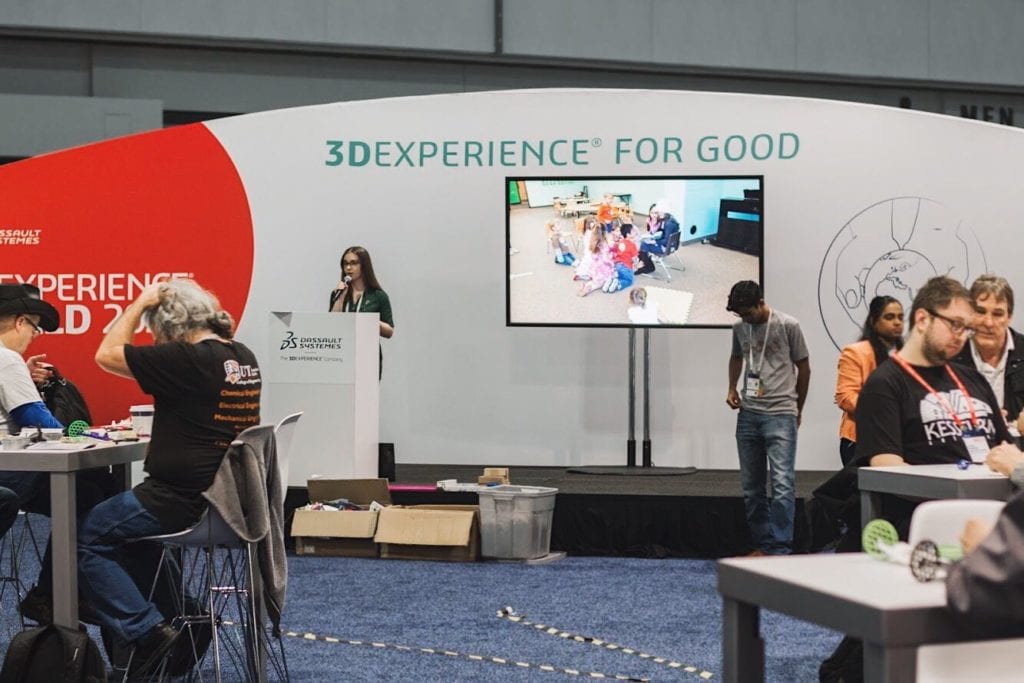 Months before the World event, members of the SOLIDWORKS User Group Network (SWUGN) community were inspired to help support EKGAR, and so one of them created a custom T-shirt for people to buy, with proceeds from the sale going to support Danielle's project. Seeing that on Twitter, it didn't take much convincing on my part to get GSC to purchase 19 of those shirts in time for us to wear on Day 3 of 3DEXPERIENCE World 2020 in Nashville; when Danielle heard about it, she insisted on being part of our group photo — which was fantastic!
I also met with Danielle separately during the conference, and as a result of our conversation, GSC will be putting our production-grade HP 5200 multijet fusion printer to good use for the EKGAR project. Our plan is to produce hundreds of 3D printed parts for Danielle, so she has the pieces she needs to supply even more kids with their own EKGAR robots.
In addition to creating EKGAR, Danielle has also seen the need for more diverse children's books, and has authored 5 books – The STEAM Cultural Connection Series: Science, Technology, Engineering, Art, and Math books for kids primarily in grades K-3. After going to over 4,000 kids in 9 countries for free, she is currently working on a second version of these books, to be eventually available on Amazon. All of the proceeds from these books go directly to enable her to send even more robotics kits to kids for free.
To house these projects, Danielle has established The STEAM Connection organization. I highly encourage everyone reading this blog to head over to www.steamconnection.org and learn more. I can tell you that if you care at all about STEAM education, there are few websites as inspiring as hers! After reading some more about her programs, you may even want to join us in supporting her efforts.
---
Have a Question?
We hope you've enjoyed this blog. If you have any questions on GSC's involvement in The STEAM Connection or EKGAR, please contact us! If you're interested in 3D printing, SOLIDWORKS, training, consulting, or other services, please let us know. We're happy to help.
SOLIDWORKS Webinars & Power Hours