Improve Design & Manufacturing Processes
If your manufacturing company is looking to become a market leader, it's critical to have the latest cutting-edge technology for your business to operate at its full potential. 
We understand the pain points that manufacturers experience when producing design and engineering efficiency. That's why we're proud to offer SOLIDWORKS 3D CAD, a product suite that's easy to learn, as well as powerful and effective. SOLIDWORKS 3D CAD is a modeling software that helps businesses design products, tools and equipment. We currently offer three different types of software depending on your requirements and needs.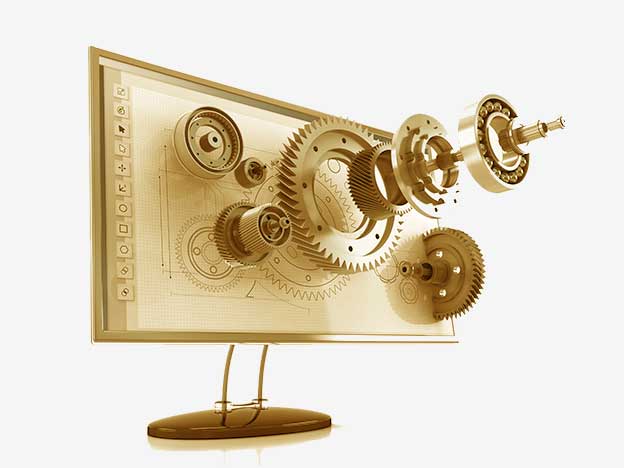 SOLIDWORKS Premium
Our most robust 3D design solution.
Make your 3D design experience the most productive. Gain industry-leading part, assembly, and drawing capabilities with built-in simulation, cost estimation, rendering, animation, and product data management.
SOLIDWORKS Premium is the gold standard when it comes to creating a 3D design experience. Our software comes with both professional and standard capabilities and tests your products' performance using real-life scenarios through simulation processes. 
Equipped with linear static analysis, advanced surface flattening, piping and tubing design and conduit design, our 3D modeling software can take your engineering practices to the next level.
SOLIDWORKS Professional
A powerful 3D design suite.
Get all the power of the SOLIDWORKS Standard package, plus additional capabilities to collaborate between ECAD and MCAD systems, automate cost estimates, check designs and drawings, and gain an advanced library and renderings.
SOLIDWORKS Professional helps manufacturers work more effectively. Our high-end software has all of the features of the standard package alongside automatic cost-estimating tools, file management, photo renderings and conversion tools.
Equipped with CAD libraries, advanced design and CAD standards checking, this robust engineering tool can quickly improve business operations and streamline processes.
SOLIDWORKS Standard
Easy-to-use, essential software.
Create fully detailed parts, assemblies, and production-level drawings, plus generate complex surfaces, sheet metal flat patterns, and structural welded assemblies.
SOLIDWORKS Standard provides the building blocks needed to achieve cohesive modeling. Straightforward and easy to use, SOLIDWORKS helps manufacturers create fully detailed parts, assemblies and drawings. This allows you to create complex surfaces, structural welded assemblies and more. Designs can even be automated with the wizard tool, allowing you to find out more about your components, such as their environmental impact. 
Our software comes equipped with part and assembly modeling and lets users create 2D drawings.
Learn the new user-requested features in SOLIDWORKS 2023 as well as improved performance and quality enhancements.
Versatility
The great thing about SOLIDWORKS CAD software is that you get to choose the software that suits your needs and budget. We always recommend using 3D software for a high-quality modeling experience. 
There's a reason why SOLIDWORKS is used by most people in the engineering design space today. It helps people and companies turn their ideas into tangible designs. The software's remarkable 3D rotation capabilities enhance the user experience, bringing designs to life like never before. 
SOLIDWORKS is used to evolve mechatronics systems from start to finish. The software helps people plan, visualize their ideations, model, create prototypes and assess whether or not the creation is feasible. 
The software then designs the various elements that go into the project, such as mechanical, electrical and software components, to ensure it functions as it should. 
The great thing about our 3D software is that it's more than just an application. SOLIDWORKS comes equipped with premium support. With a goal of driving growth across companies through 3D engineering, we're there to help our customers each step of the way.
Get in Touch
If you want to learn more about SOLIDWORKS 3D CAD modeling software, contact our team of experts today. We'll work to understand your business goals and objectives and be able to recommend software suitable for your needs.
Find the Best Fit
Get the function you need in your budget.
Gain innovative tools to design, manage, and rapidly go to market with your product.
GSC is your choice for certified SOLIDWORKS expertise in Wisconsin, Illinois, and Upper Michigan.
Design for Plastic Thermoform Packaging
Prent Corporation moved to SOLIDWORKS from Unigraphics. As a global, 600-person company, they needed automated, streamlined design for their custom packaging supporting medical, electronics, and consumer products industries.
They doubled throughput and saw a significant, similar jump in global sales.
Upgrading From 2D to 3D Helps You Succeed
No matter what you design, moving to 3D will help you do a better job. It's that plain and simple. You automatically generate time, cost, and material savings by expanding into this technology.
Learn how moving to 3D is easier, and more productive, than you think.
Benefits of Training
Certified, comprehensive training for your engineering team with ongoing programs.
We offer classroom and online formats, as well as in custom options we build for you.
Learn from our experts to make the most efficient use of your SOLIDWORKS investment.